Sometimes, you can't fit all your connections on one layer. This is where vias come to your rescue!
Vias are barrel shaped vertical conductive holes that make connections between multiple layers of a PCB. The IPC defines eight different types of vias, but we're going to talk about blind and buried vias; the two you're most likely to work with.
A blind via connects an outer layer of the board to inner layers and doesn't go through the entire board. A buried via connects inner layers without reaching the outer layers. And a through hole via goes all the way through, from top to bottom, connecting all layers.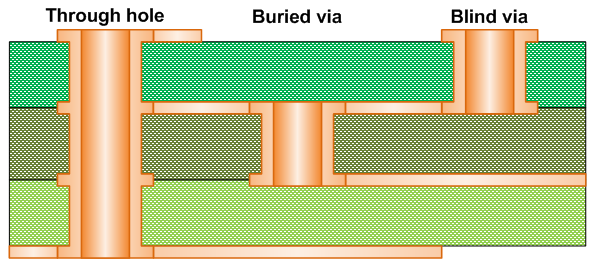 Fitting More on Smaller Boards

Blind and buried vias provide electrical connections from the outer layers to the inner layers as well as in between the inner layers, and are used when you have limited space on your PCB. Buried vias are hidden beneath the layers and free up surface space without impacting the traces or surface components on the top or bottom layers. Blind vias also free up space, can be essential for fine pitch BGA components and have the added benefit of helping reduce signal stubs through the drilling process as the via terminates at the last connected layer.
You mostly see blind and buried vias in High density interconnect (HDI) PCBs. HDIs provide benefits such as increased layer density, improved power delivery and use of much smaller pitch devices. The hidden vias help keep the board light and compact. It is common to see blind and buried vias in electronic products like, cell phones, laptops, and medical devices to name a few.
Incorporating blind vias and buried vias make more connections and higher board density possible. But not without drawback. Vias add extra steps to manufacturing and testing, which come with added costs.