Rigid Flex PCB Manufacturing
In response to market requirements, Hemeixinpcb also offers production of its core HDI PCB technology in combination with flexible PCBs. To make this possible, Hemeixinpcb can offer rigid-flex and flexible PCBs and HDIs for high-reliability applications, with features down to 25 µm and flexible dielectric core down to 25 µm. With the revolution in portable communications' products over the last decade, flexible PCB manufacturing has become a preferred design solution for both complex, three-dimensional product assembly and advanced component surface mounting demands.
The Rigid Flex pcb Innovation in Your Products
Rigid Flex Circuits provide you with a unique tool in order to bring your innovative packaging ideas to market, and to also separate your products from the crowd. In addition, rigid-flex PCbs give you the ability to design your circuitry to fit the device, rather than building the device to fit the circuit board. Learn more about rigid flex pcb cost.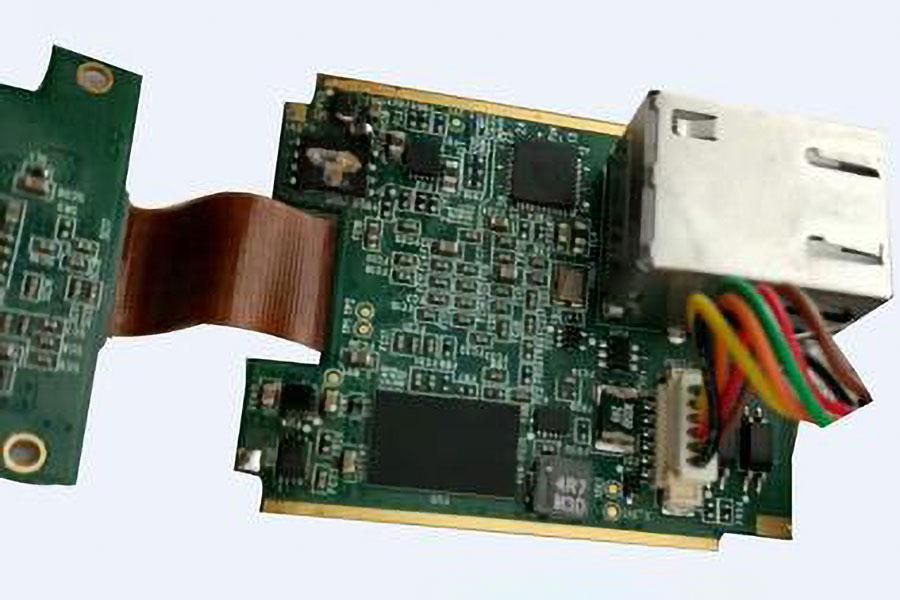 More flexibility, as the name suggests

Improved resistance to vibrations and movement; lower mass/weight

Small package size

Allows the board to bend to its desired applicable shape

Allows for more compact devices

High tensile strength - can be significantly warped/deformed without breakage

High bendiness - up to 360 degrees
The Density in Your Packaging
The standard dielectric in flexible circuits is .001 – .002″ making it a natural for ultra-thin, ultra-light packaging. Adhesiveless laminates, HDI and thin copper layers make it ideal for fine line technology, providing you with the smallest, thinnest and lightest solution for your circuit designs.
Rigid Flex PCB Manufacturer 
To reassure the ultimate reliability as a leading Rigid Flex PCB manufacturing company, our rigid-flex PCBs are specially designed for the rigors of aerospace, medical and military applications. Flex assemblies also reduce connectors, and the manufacturing labor, yield, transmission, and reliability issues that are inherent as part of their application. Please link here to learn more about rigid flex pcb design guidelines.
Quick turn rigid flex PCB board manufacturing within 10 working days.
The fastest Turn-Key Rigid Flex PCB assembly within 2 weeks.
Stacked and staggered Micro via large format circuit board
Large format Circuit board
Ultra long rigid flexible PCB board
Heavy copper Rigid Flex PCB Copper Weight of up to 10 oz
Sculptured rigid flex circuits
Copper-filled microvias Rigid Flex PCB
Minimum track width and spacing in mass production around 50μm
HDI Rigid Flex PCB build up: 1+N+1 HDI Rigid Flex PCB, 2+N+2 HDI Rigid Flex PCB, 3+N+3 HDI Rigid Flex PCB, 4+N+4 HDI Rigid Flex PCB
Any layer HDI Rigid Flex PCB
Ultra-thin HDI Rigid Flex PCB for wearable electronics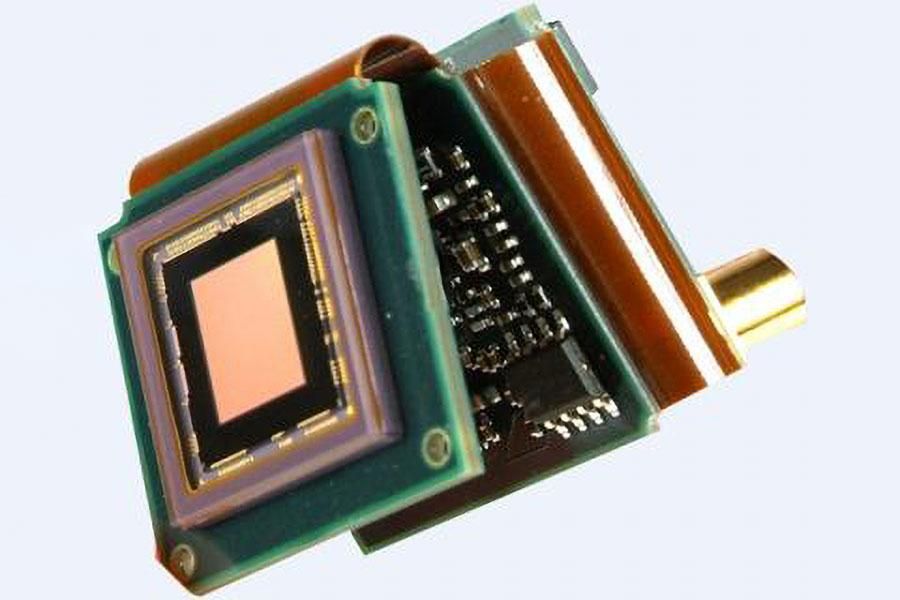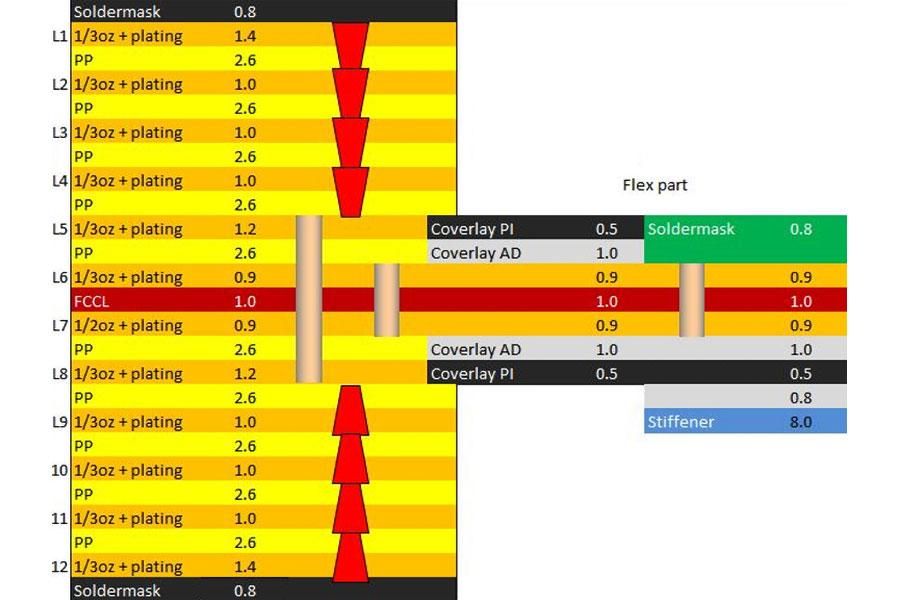 ---
General capabilities for rigid flex PCB boards:
| | |
| --- | --- |
| Description | Standard Capabilities |
| Lines/spaces | 40/45 µm |
| Microvias/pads diameter (flex) | 50/200 µm |
| Microvias/pad diameter (rigid, laser) | 75/200 µm |
| Through vias/pads diameter (rigid, mech.) | 125/300 µm |
| Thinnest dielectric thickness (flex) | 12 µm |
| Thinnest dielectric thickness (rigid) | 60 µm |
| Conductor width tolerance | +/- 20% |
| Artwork to soldermask tolerance | +/- 25 µm |
| Layer count | up to 20 |
Advance capabilities for rigid flex PCB boards: 
| | |
| --- | --- |
| Description | Standard Capabilities |
| Lines/spaces | 35/40 µm |
| Microvias/pads diameter (flex) | 40/100 µm |
| Microvias/pad diameter (rigid, laser) | 50/150 µm |
| Thinnest dielectric thickness (flex) | 12 µm |
| Thinnest dielectric thickness (rigid) | 30 µm |
| Conductor width tolerance | +/- 15% |
| Artwork to soldermask tolerance | +/- 15 µm |
| Layer count | up to 30 |
What is Rigid flex PCB
The trend to miniaturization in electronics continues. Integrated circuit board solutions are becoming more and more popular as a means of efficiently utilizing the even smaller casing volume in all three dimensions.
A rigid-flex printed circuit board is unique as the rigid part of the circuitry can be placed directly into the application. Then, the flexible section can be bent and even folded to fit around components to make another direct connection. This aspect ensures a reliable connection to parts for higher performance.
Some of the most common products that incorporate rigid-flex PCBs in their design include laptop computers, smartphones, and wearable devices due to the bending capabilities of rigid-flex.
Rigid-flex pcb boards are PCBs that have Flexible PCBs (FPC) and Rigid PCBs on the same board, which are commonly employed to save space, remove wiring assemblies and can also be welded with complex components. Combining other higher technology boards, such as HDI, as a part of its packaging, is also a common design.
Benefits of Rigid Flex PCB
Space requirements can be minimized by applying 3D
By removing the need for connectors and cables between the individual rigid parts the board size and overall system weight can be reduced.
By maximizing space, there is often a lower count in parts.
Less solder joints assure higher connection reliability.
Handling during assembly is easier in comparison with flexible boards.
Simplified PCB assembly processes.
Integrated ZIF contacts provide simple modular interfaces to the system environment.
Test conditions are simplified. A complete test prior to installation becomes possible.
Logistical and assembly costs are significantly reduced with flex-rigid boards.
It is possible to increase the complexity of mechanical designs, which also improves the degree of freedom for optimized housing solutions.
Rigid Flex PCB Fabrication Applications
Rigid flexible PCBs offer a wide array of applications, ranging from military weaponry and aerospace systems to cell phones and digital cameras. Increasingly, rigid flex board fabrication has been used in medical devices such as pacemakers for their space and weight reduction capabilities. The same advantages for rigid flex PCB usage can be applied to military weaponry and weapon control systems
In consumer products, rigid flex doesn't just maximize space and weight but greatly improves reliability, eliminating many needs for solder joints and delicate, fragile wiring that are prone to connection issues. These are just some examples, but rigid flex PCBs can be used to benefit nearly all advanced electrical applications including testing equipment, tools and automobiles.
Available structures for rigid flex PCB
There are numerous, different structures available. The more common ones are defined below:
Traditional rigid flex construction (IPC-6013 type 4) Multilayer rigid and flexible circuit combination containing three or more layers with plated through holes.
Asymmetrical rigid flex construction, where the FPC is situated on the outer layer of the rigid construction. Containing three or more layers with plated through holes.
Multilayer rigid flex construction with buried / blind via (microvia) as part of the rigid construction. 2 layers of microvia are achievable. Construction may also include two rigid structures as part of a homogeneous build.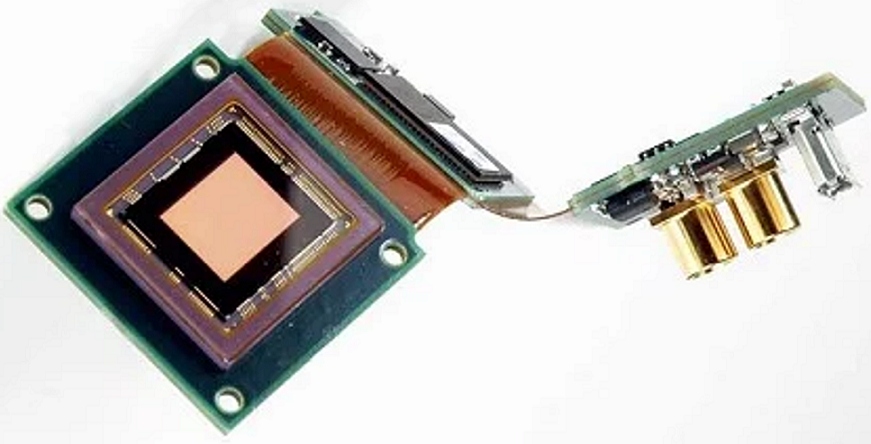 In recent years, Hemeixin has accumulated extensive expertise in costumer projects and commissions of the widest variety of designs and applications, from Aerospace to Medical devices and currently it supplies many customers. With the broad range of technology we offer, you can make the best possible selection for any requirements in terms of performance and costs.
Hemeixin is offering a big variety of rigid-flex PCB constructions, using high end/quality base materials, like high TG/low CTE FR4, combined with polyimide foils and various adhesives. State of the art interconnection technologies like stacked or staggered vias and via-in-pad structures are used to drive miniaturization further down the road. A big portfolio of surface finishings is enabling Hemeixin customers to use all available assembly methods on boards produced by us.
Rigid flexible PCB circuits are an essential part of modern day technologies. The fact that they can bend and be folded means that these circuits are highly adaptable to any circumstance and application. One simply does not have that capability when it comes to completely rigid PCB circuits, which serve their purpose in conventional electronics, but fail when it comes to specialized situations.
There are many advantages to using rigid flex PCB over traditional circuit boards. For example, during the manufacturing process, conventional boards are exposed to potential human error when soldering, routing, or wrapping the wires. But because rigid flex circuits must be manufactured through automated processes adhering to precise designs, there is less room for error.
Of course, the greatest advantage to using rigid flex circuits is that they are designed to have the freedom to move without compromising the overall integrity of the device's components over time.
Our rigid flex PCB manufacturing allows circuits to be configured in ways that satisfy your specifications and needs. We can create circuit boards according to specific shapes, and we can also modify their thickness. That means that the circuit board's flexibility doesn't just extend to its physical properties, but also in the various ways it can be designed. Rather than creating a product around your circuit board, we allow you to build your rigid flex PCB around your product, ultimately reducing size and space limitation issues and considerations.
Moreover, when talking about the functionality of rigid flex PCB manufacturing it is also important to consider the higher device density population it enables, allowing for more features to be included in your product.
Finally, since the rigid flex PCB circuits are thinner and less bulky than conventional circuit boards, heat is able to dissipate with a higher degree of effectiveness, resulting in a longer operational duration.
The bottom line is that rigid flex PCB is the right choice for you if you want to produce lighter, functional products.