Dielectrics 
To make controlled impedance circuit boards, differing materials are used. FR4 is standard here too. However, in applications with very high frequencies (>1 GHz), requirements such as low dielectric loss or a lower Er are of increasing importance.
Impedance Control: How to Specify Your Requirements for PCB Manufacturers
Give Your Fabricator a Stackup Table
If you've created a complete stackup table, then you can include your impedance control spec as a note for your PCB manufacturer. You will typically want to include the following information:
Trace width you've determined for a required single-ended impedance
Repeat #1 for differential impedance
Repeat #1 and #2 for each layer
Specify these values for each transmission line geometry on each layer (coplanar vs. microstrip/stripline)
These points are important to specify clearly as different trace geometries may be present on different layers, and they might also have different impedance values. It's important to be complete and clear in your PCB fabrication notes. Determination of all the trace widths required to reach impedance targets is one of the essential parts of front-end engineering that should normally be performed by designers. Using the right stackup calculator with anintegrated field solver makes this easy.
Specify Impedance in Your Fab Notes
This is what designers will often do when they only care about impedance matching, but they are not designing the board around their manufacturer's material stocks. FR4-grade laminates and other materials can be substituted for each other, but this could require changes to the trace widths in your design in order to hit impedance goals. Typically, a designer will choose a material that conforms to a specific slash sheet, and that probably has a specific thermal property they care about. They will then use that dielectric constant to determine the trace width required for a specific impedance.
The impedance will then be specified using a note in a PCB fabrication drawing.
IMPEDANCE REQUIREMENTS:
 ??? OHM IMPEDANCE REQUIRED FOR X.XXX MIL TRACES ON LAYERS X, Y, Z.
??? OHM DIFFERENTIAL IMPEDANCE REQUIRED ON X.XXX MIL TRACES / X.XXX MIL SPACING ON LAYERS X, Y, Z.
This is fine as long as you know your fabricator can substitute alternative materials that will ensure the impedance in every layer can hit your targets. This is yet another reason to talk to your fabricator early; ask them for their standard stackups and design rules, and you'll eliminate the need for design changes later.
Make an Impedance Table
One option is to place a small table in your fabrication drawing that summarizes all the impedance requirements on each layer. Again, you're only specifying a single width and impedance value on that particular layer. This is either the impedance you determined from a stackup calculator, or it's the impedance goal you need the fabricator to hit in your design. A simple (color) impedance table you can place in your fab notes is shown below.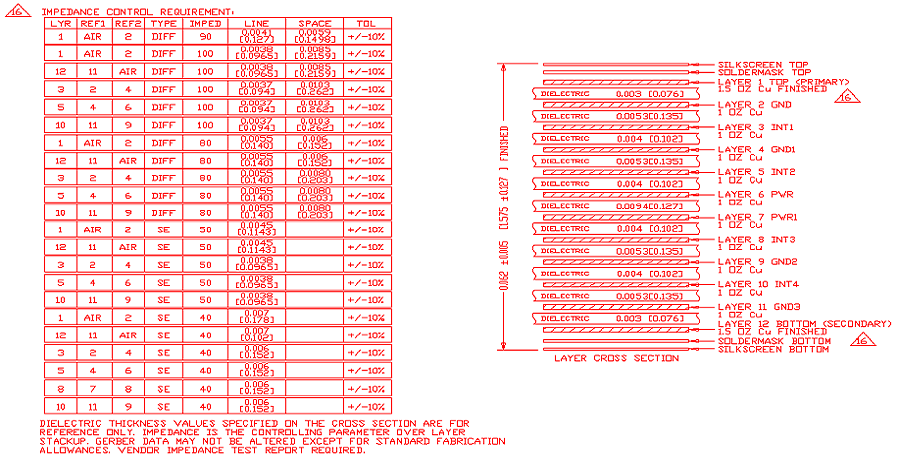 Here, HemeixinPCB can offer a large portfolio of usable materials. Many of these are seen as standard and are regularly used, others are available at short notice. You will ἀnd further information in the "Materials".