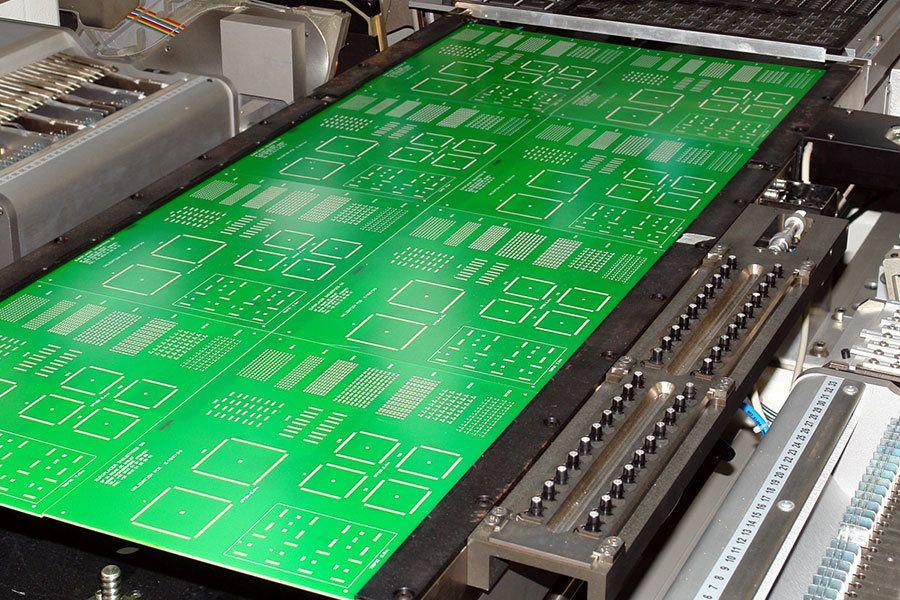 The world's top ten PCB Manufacturers
PCB market experienced in 2012, "low", the last two years has gradually warmed, the next few years will continue to maintain a growth trend. Throughout the global PCB market, the global PCB market in Asia is still the major producer in the global PCB output value before the latest ranking the top ten list, in Asia alone, accounts for nine seats, including mainland China, Taiwan, and South Korea have raised market share Japan lower amplitude decrease occurs.
NO.10 Korea DaeduckGroup (Dade)
Korean factory Dade Group (DaeduckGroup) Dade's Electronics (DaeduckElectronics), DaeduckGDS, Aperio, YoungTech like a printed circuit board (edCircuitBoard; PCB) subsidiaries, wherein the electronic Dade, DaeduckGDS YoungTech major suppliers and soft board (FlexiblePCB; FPCB), multilayer (Multi-layer PCB; MLB), high density interconnect (HighDensityInterconnect; HDI) and the like PCB, Aperio places IC board as the main products.
2012 Dade PCB Business Group revenue of 1.29 trillion won (about US $ 1.22 billion), three quarters of 2013 a total revenue of 1.05 trillion won, the Korean PCB industry ranks the top five manufacturers position.
In addition, Dade Aperio Group, a subsidiary of the Korean minority to the IC substrate manufacturers as the main source of revenue, others such as Samsung Electro-Mechanics (SamsungElectro-Mechanics; Semco), Wing Fung Group, a subsidiary of KCC (KoreaCircuitCompany), LG Innotek and Simmtech, etc. Korean PCB plant product line are simultaneously covered with the IC carrier PCB.
NO.9 United States TTMTechnologies
TTM Technologies, Inc. (TTMTechnologies, Inc) is a printed circuit board manufacturer, specializing in a variety of printed circuit board production orders, mainly supplied to the computer peripheral industry, the computer industry and the Internet industry's top markets such use. Orders for the company's business to the main circuit board production, but also accept the manufacturer temporary production needs to be able to immediately reflected in a shortage of supply in each market, to help manufacturers through a temporary shortage of supply difficulties. TTM Technologies is currently the company's largest business market is still the United States, the main customers include Compaq Computer (Compaq) and Solectron (Solectron), and the company is actively expanding the network industry market. TTM Technologies, Inc.'s largest shareholder is back to follow the holding company (CircuitHoldings) is a investment group, including too Ya finance companies (ThayerCapitalPartners), TC Management Group (TCManagementPartners), and Bo Kewei companies (BrockwayMoran & Partners), has a total company of 79% of the shares.
NO.8 Japan SumitomoDenko
Sumitomo Sumitomo Electric Group originated in the family's copper industry, dating back some 400 years. In 1897, after Sumitomo stretch Tongchang (formerly Sumitomo Electric Industries, Ltd.) was established Sumitomo Electric to manufacture bare copper wire technology as the basis for continued development of unique manufacturing technology and challenges of the new business areas. Today, the Sumitomo Electric Group has a car, information and communications, electronics, wiring, mechanical materials, energy, and industrial raw materials five business areas, with more than 300 group companies in over 30 countries, providing products to become a community in the world, technologies, and services of international enterprises.
NO.7 Taiwan Tripod (Tripod)
Taiwan Tripod Technology Co., Ltd. is a printed circuit board (PCB) listed companies. In 2005 TFT / LCD substrate, memory cardboard, hardboard production reached first in the world. In 2006 consolidated revenues of NT $ 20.6 billion, after-tax earnings per share of 7.2 yuan.
Taiwan Tripod Technology Co., Ltd. is listed on the Taiwan high-tech excellent enterprise, mainly engaged in the printed circuit board (PCB) production, the products are sold at home and abroad. The world's first printed circuit manufacturing enterprises, the memory of the world's first, the world's first liquid crystal display PCB, PCB turnover hundred first mainland, Taiwan's growth rate for the first PCB enterprises, an increase of more than 30 percent a year, We can provide world-class processes and technology with the name printed circuit board manufacturers to customers around the world. Jiangsu Provincial Party Secretary in 2004 awarded five outstanding manufacturers in Wuxi, the only Chinese company (Sony, Daewoo mills, electronic Seagate United States, German Bosch company, Tripod Company). Tripod (Wuxi) Electronics Co., Ltd. mainland factory covers an area of 800 acres, with a total investment of RMB 10 billion. Company employees 22,000 people, and in Xiantao, Hubei put into the establishment of a new plant, the company will develop into a global PCB manufacturing center.
NO.6 Japan Ibiden (Ibiden)
Japanese Ibiden Co., Ltd. (IBIDEN) is the largest one of the printed circuit board development and production of specialized factory, its own research and development and production of products with a semiconductor package such as a CPU board, multi-layer high-density mobile phones with technical standards and processing circuit boards are a world leader, it has won widespread praise from the world's major users. December 2000 IBIDEN in Beijing Economic and Technological Development Zone, Xingwang Industrial Park incorporated the Ibiden Electronics (Beijing) Co., Ltd. Has invested amounted to $ 70 million and employs 1204 people. As a company certified by the Beijing Municipal Government high-tech enterprise specializing in mobile phone production of printed circuit boards with multiple layers of high density.
NO.5 South Korea Samsung E-M (Samsung Electronics)
in 1973, Samsung Electro-electronic components manufacturer from a start, by advocating innovative corporate culture, to create surplus-class manufacturing competitiveness. The company gradually introduced TPM, 6SIGMA, TPS, and other advanced Wizards HOUSE innovation systems, by virtue of its core technology, become the hub of the electronic components industry of South Korea at the same time, the internationalization of products, and to the world. To become the world's leading supplier of core components of electronic products, mainly the production of mobile phones, computers and other digital products, core components.
Samsung Electronics is mainly engaged in consumer electronics, semiconductor manufacturing, panels, home appliances, and other services, it is South Korea's largest conglomerate Samsung Group's flagship subsidiary, is the largest revenue of the electronics industry manufacturer in the world.
NO.4 Taiwan Zhendingtechnology (Pottinger)
Zhen Ding Technology Holding Co., Ltd. engaged in the printed circuit board (PCB) design, development, manufacture and sale of one of the listed companies, the company's main products include flexible printed circuit board (FPC), high-density interconnect (HDI), rigid printed circuit board (RPCB) and an integrated circuit (IC carrier), are widely used in mobile phones, computers, automobiles, electronic products, and other networks.
In 2010, the revenue of $ 1.13 billion, ranking China's second circuit board manufacturers, the world's fourth. Currently in Shenzhen, Guangdong, Hebei Qinhuangdao, Huaian, Yingkou, Liaoning has production bases around the world and has service offices. Currently employs more than 25,000 people, mainly customers, Nokia, Motorola, Sony, Dell and other international brand clients.
NO.3 Taiwan Unimicron (Unimicron)
Unimicron is a member of UMC Group, PCB manufacturing experience of over 30 years, in recent years, the rapid growth of about 40% per year, the country's third-string rose manufacturers . There are currently 10 plants, four in mainland China, six in Taiwan.
Taiwan Unimicron established in 1990, is headquartered in Taoyuan Guishan industrial zone, UMC corporate responsibility group, is the circuit board (PCB), integrated circuit carrier (ICCarrier) world-class supplier industry, the output value in 2006 for more than the US $ 1.1 billion, is the largest of the Chinese PCB industry companies, there are ten FAB in Taiwan, is located in Taoyuan County and Hsinchu County, four HDI plant, five mill with a load IC burn-in and test factory; in mainland China has four production bases, one in Shenzhen and one in Suzhou, Kunshan in two. Currently into PCB Division, Division of the carrier plate, the IC foundry burn-in test division.
Unimicron committed to the development of new products and new technology, is the world's leading suppliers of advanced mobile phones HDI boards and IC package carrier.
NO.2 South Korea YoungPoongGroup (WF)
Korean factory Yuen Foong Group (YoungPoongGroup) covers the electronic components, semiconductors, and other departments chain system, wherein, to supply the electronic components cause of the printed circuit board (edCircuitBoard; PCB) mainly through the semiconductor division is mainly to provide a subsidiary Signetics the semiconductor packaging and testing services, manufactured by Division chain is responsible for producing non-ferrous metals and leasing of real property.
Yongfeng Group's electronic components division has five subsidiaries, including KCC (KoreaCircuitCompany), Terranix, Interflex, the company Electronic (YoungPoongElectronics) and the China Printed Circuit Board (Tianjin), which, KCC major supplier of IC substrates and high density interconnect technology (HighDensityInterconnect; HDI) PCB, Terranix with special multilayer PCB (Multi-layer PCB; MLB) as the main products, three other major suppliers are subsidiaries of the flexible plate (FlexiblePCB; FPCB).
2012 Yongfeng Group's electronic components division revenue of 1.95 trillion won (about US $ 1.84 billion), three quarters of 2013 the cumulative revenues of 1.66 trillion won, and Samsung Electro-Mechanics (SamsungElectro-Mechanics; Semco) tied together with the world's top five PCB plant status.
NO.1 Japan NipponMektron (Qisheng)
Japanese flag wins (NipponMektron) is a key player in the global production of soft board, with offices around the world and plant, collectively known NOK Group. NOK Group is currently the world's largest supplier of soft board, more than 15% of the global supply of soft board demand, NOK Group set up to Mektron the name of the soft board manufacturing company in many locations around the world to Mektron as the main body. Mektron Founded in 1969, the capital of 5 billion yen, the number of employees 1,300 people.
NOK recently published (April 2008 – March 2009) fiscal year 2008 financial statements, the annual consolidated revenue of minus 11.3%, to 4,666.94 one hundred million yen; consolidated operating profit 7.441 billion yen, the annual reduction of 82.5%; consolidated net profit also annual reduction of 97.5% to 652 million yen. Using mobile phones, soft board HDD business revenue and operating profit were 1,698.03 one hundred million yen and 4.061 billion yen, the annual reduction of 8.6% and 74.3%.
Looking to fiscal year 2009 (April 2009 – March 2010), NOK said, because the world's cars, mobile phones, and other HDD and weak sales, coupled with the yen exchange rate trend is unknown, it is estimated consolidated revenue of minus 17.7%, which FPC career annual reduction of 12.8%; this industry will turn profit into loss, consolidated net profit forecast to a loss of 13.2 billion yen.