What Ultra Low Loss PCB Material We Can Recommend
Ultra low loss material is the most widely used material. They are available in the familiar FR4 and CEMI materials, providing an excellent balance of properties in all frequency ranges from DC to 40 GHz+. The materials are manufactured to very high standards with a minimum thickness, size, and position tolerances for higher quality and consistent results. The materials are ideally suited for use with any through-hole technology, surface-mount technology, or hybrid technologies.
Ultra low loss PCB material is most circuit designers' top priority when designing an RF PCB circuit. As the industry leader in ultra low loss PCBs, we are often asked to recommend a PCB material for different applications. Often, our clients do not understand the distinct characteristics of materials and ask us what is best - FR4 or some other PCBA material like BFR. There are several different ultra low loss PCB materials available on the market,, and some are far superior to others in terms of functionality and manufacturing capability. We have put together a list of what we consider to be the best ultra low loss PCB materials available.
N4000-13
The N4000 family of ultra-low loss microwave and millimeter-wave dielectric materials is a line of proprietary, high-performance low loss dielectrics for use in RF applications. It consists of dielectric materials with varying dielectric constants that exhibit shallow intrinsic losses over the frequency range from 4 GHz to 40 GHz. These materials are available in both tape and reel form, as well as in custom fabricated shapes. The N4000-13 offers an intrinsic Q of 30,000 at 4 GHz and the lowest dielectric constant values for applications requiring low loss, such as cellular base stations, wireless backhaul, and MMICs.
Taconic TLX-8
Taconic TLX-8 ultra low loss PCB material is a high-performance copper clad laminate with an outer layer of copper foil. This material has an ultra low dielectric constant and deficient dissipation factor, which makes it ideal for applications where high frequency signals are present. The TLX-8 material consists of an aluminum alloy core plated with an ultra-thin layer of gold and then nickel over the gold. The resulting material has excellent shielding properties, which provide excellent EMI/RFI shielding in high frequency applications.
The combination of low dielectric loss and high isolation makes Taconic TLX-8 an excellent choice for use with devices that require a stable operating environment (SOI). Because the material is moisture resistant, it can be used without concern when working with SOI wafers sensitive to moisture contamination during processing.
Arlon 25N
Arlon 25N is an ultra low loss material for microwave applications. It has excellent electrical characteristics, such as high dielectric constant and dissipation factor, low attenuation due to its non-metallic structure, and good thermal stability. These properties make Arlon 25N ideal for high frequency use such as RFID tags and labels, mobile communications systems, microwave links, radar, and satellite communications. The Arlon 25N substrate provides good mechanical properties, including toughness and thermal shock resistance. Its low coefficient of thermal expansion (CTE) makes it suitable for use in temperature-sensitive environments such as automotive electronics or military equipment.
Rogers 4350B
The Rogers 4350B ultra low loss PCB material is a copper-clad laminate (CCL) with a controlled dielectric constant of FR-4 epoxy laminate. Rogers 4350B PCB material has been proven in many complex applications requiring high frequency, high power, and high-temperature environments. The Rogers 4350B board material offers excellent electrical properties for RF and microwave applications. The Rogers 4350B material provides low intermodulation distortion in high power amplifiers, thermal conductivity, and excellent dielectric properties over a broad frequency range.
Rogers 4350B controlled dielectric constant, and permittivity makes it an excellent choice for applications that require high performance and a wide frequency range. The material can be used for both air-dielectric and vacuum-dielectric applications, and for high power or high frequency operation.
Rogers RT5880
Rogers RT5880 is an ultra-low loss PCB material with a high dielectric constant, low loss, and low-temperature coefficient. The material is a dielectric substrate made of Rogers' proprietary advanced ceramic substrates with Rogers' proprietary silver (Ag) plating process. It can operate at frequencies up to 18 GHz, making it an excellent choice for use in high frequency printed circuit boards (PCBs).
The Rogers RT5880 material is one of the most popular FR4 epoxy glasses used in high frequency applications. The Rogers RT5880 has better thermal conductivity than the Rogers RO4350, and it also has better dielectric properties than the Rogers RO4350 material.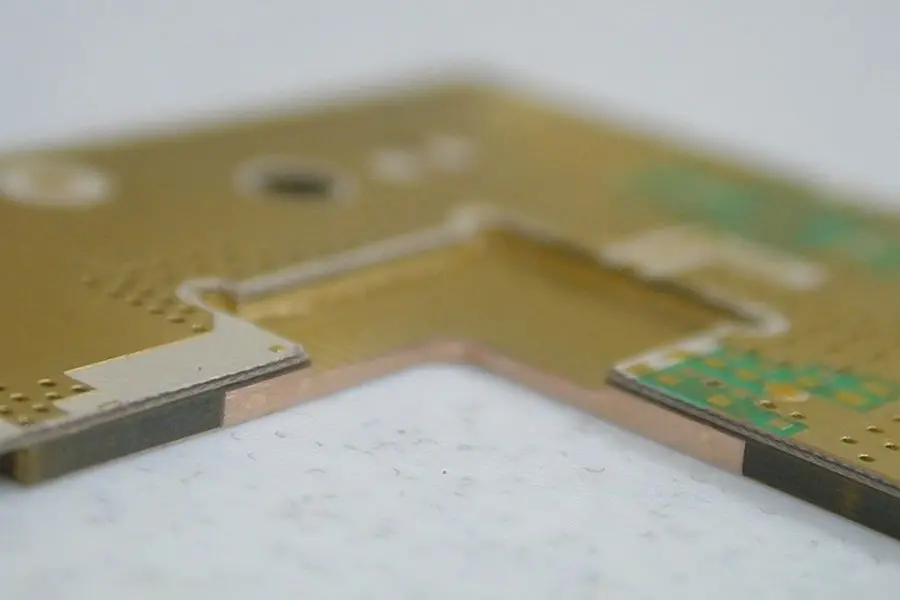 Taconic TLY-5
Taconic TLY-5 ultra low loss PCB material is an FR4 glass fiber reinforced epoxy laminate designed for high-performance and reliable applications.The material is particularly suited to applications involving high-speed signals, such as passive devices, networks, and microwave circuits. Taconic TLY-5 ultra-low loss PCB material is an excellent choice in demanding environments where environmental stress cracking resistance is critical or when high voltage or EMI shielding is required.
The TLY-5 can be made with different dielectric constants depending on the desired application. The main difference between these materials is the thickness of the substrate, which determines how much current can flow through it at a given frequency. The thinner substrates are typically used when frequencies above 100 GHz are involved since they allow more current to flow through them while maintaining good thermal conductivity properties.
Final Word
With the development of high-speed, high-frequency, and other high-precision industries, RF circuits and microwave circuits have become more critical, so the materials for PCB boards should be chosen carefully and have good electromagnetic characteristics. The use of appropriate materials for PCB boards can effectively reduce circuit resonance, improve board conductivity, and reduce absorption in the board substrate, thus achieving good electromagnetic characteristics.
Overall, the materials mentioned above are the best for printed circuit boards. However, N4000-13 is the best choice for printed circuit boards, especially for high frequency applications. The material has an ultra low loss factor and a low dielectric constant of 2.6. It is a high-temperature resistant material with excellent thermal conductivity and low thermal expansion coefficient. In addition to the above characteristics, it also has good electrical performance and heat dissipation performance.