Microvia HDI PCBs
---
HDI PCBs have high-density attributes, including laser microvias, sequential lamination structures, fine lines, and high-performance thin materials. This increased density enables more functions per unit area. Advanced technology HDI PCBs have multiple layers of copper-filled stacked microvias, which creates a structure that allows even more complex interconnections. These complex structures provide the necessary routing and signal integrity solutions for today's large pin-count, fine pitch, and high-speed chips in high technology products.
Hemeixin is one of the first companies to provide volume high density interconnect PCB capability to our customers. Our continuous investment in developing world-class, fine-line Microvia technology has made us a leading Microvia HDI PCB board manufacturer. Our thorough experience and commitment in providing a complete solution for our customers helps to resolve early design issues, shorten the lead time, and deliver a high-quality, cost-efficient product.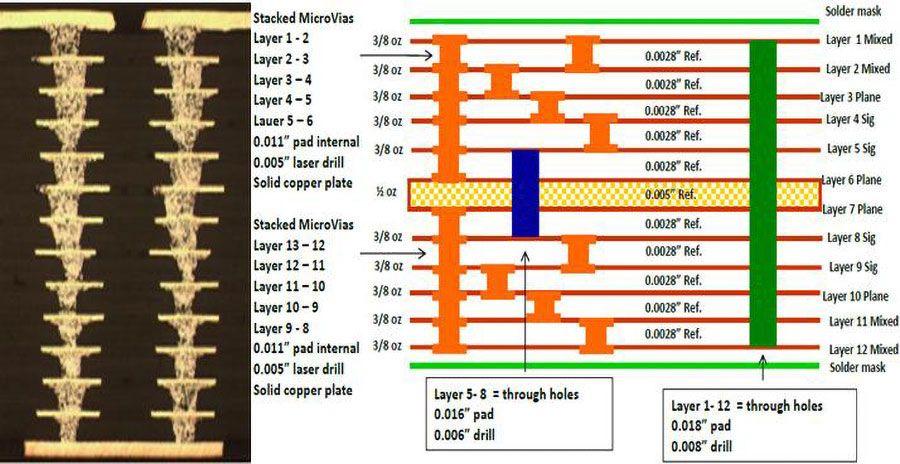 Our HDI PCB includes: 
Any layer hdi pcb technology
Skipped, telescopic, stacked μvias
Copper filled via, HDI via fill plating, via in pad technology
HDI PCB build up: 1+N+1 HDI PCB, 2+N+2 HDI PCB, 3+N+3 HDI PCB, 4+N+4 HDI PCB, Up to 9+N+9
Low loss pcb material (I-Speed material, FR408HR, Megtron4, EM-888, N4000-13EP, N4000-13, TU-863+, TU-872lk, TU-872SLK, TU-872SLK SP etc)
High Speed Digital PCB laminate: (I-Tera MT40 / RF, Tachyon-100G, Megtron6/R-5775, RO4450F, RO4350B, RO4835, RO4003, RO4533, TU-883, TU-883SP, IT-968, IT968SE etc)
RF PCB, Microwave pcb laminate: (Taconic TLY series, TLY-5, RF35, TSM-DS3, Astra MT77, RT/Duroid 5880, RO3203, RO3003 etc)
Sequential Lamination
Stacked Microvias
Blind & Buried Vias
Laser Direct Imaging
0.05mm Trace/Space
Fine Pitch (Down to 0.3mm)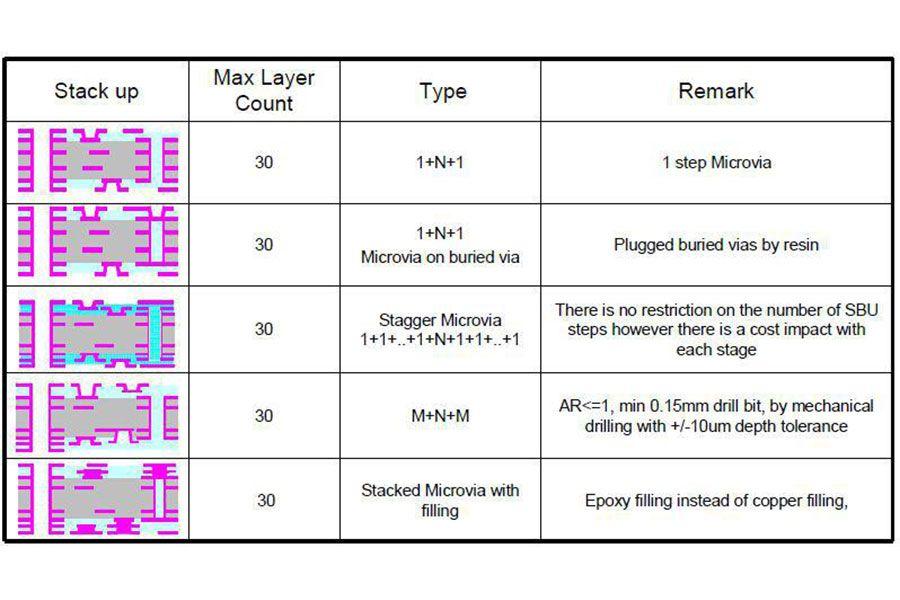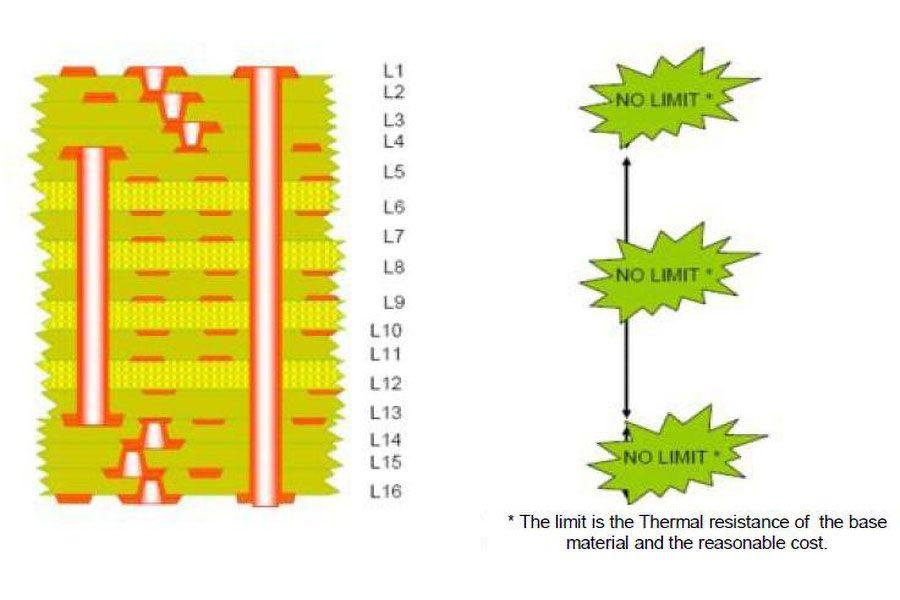 Overview HDI PCB capabilities: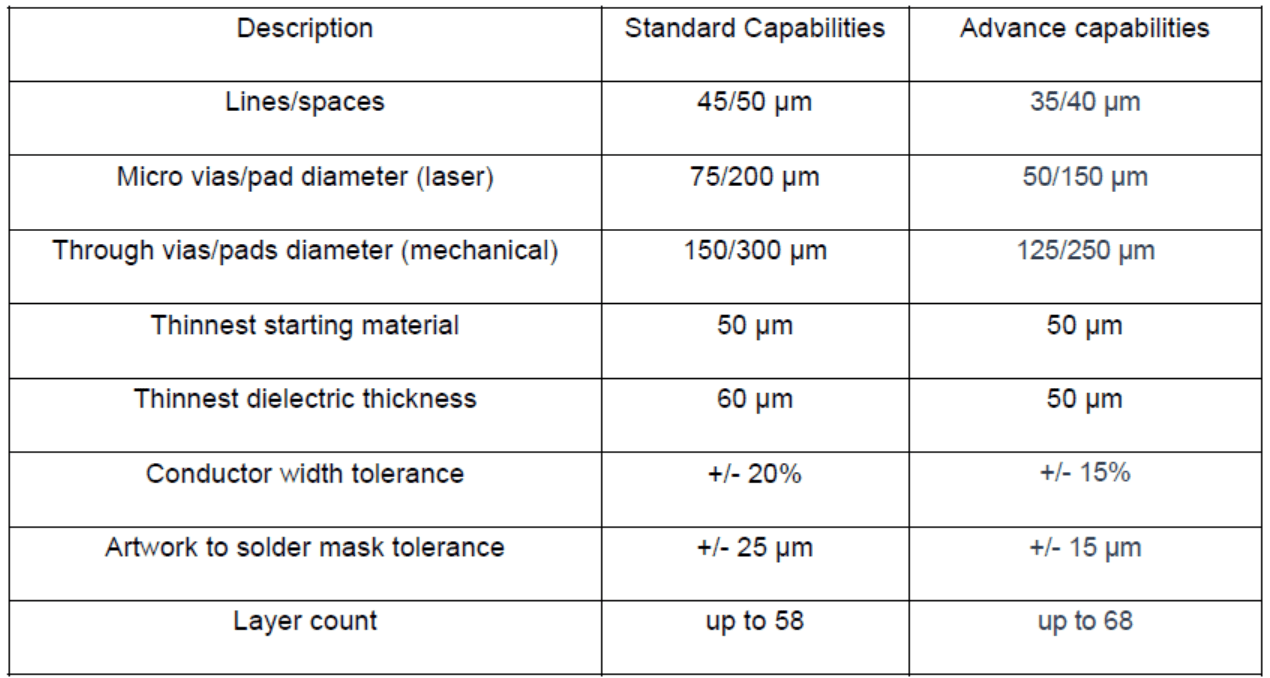 Our Microvias pcb Solution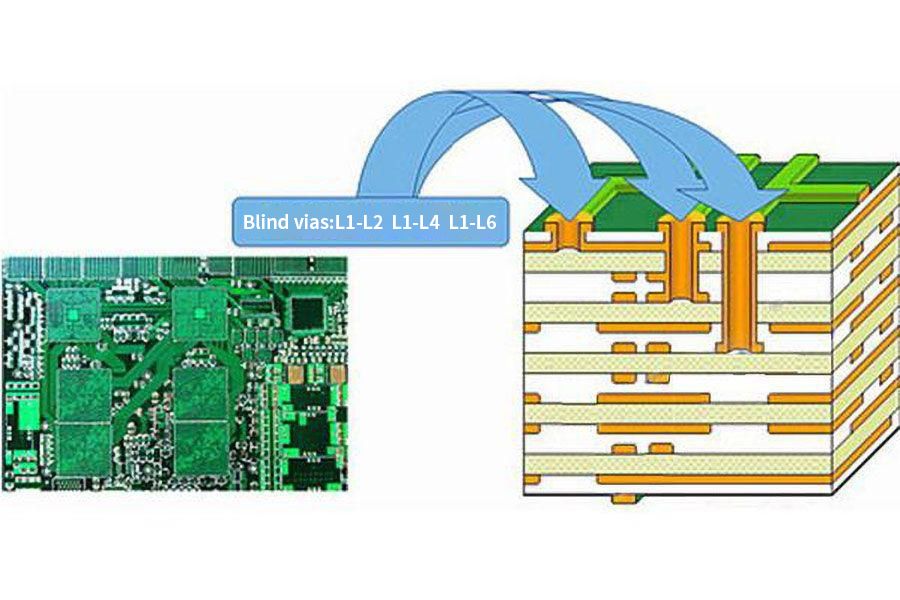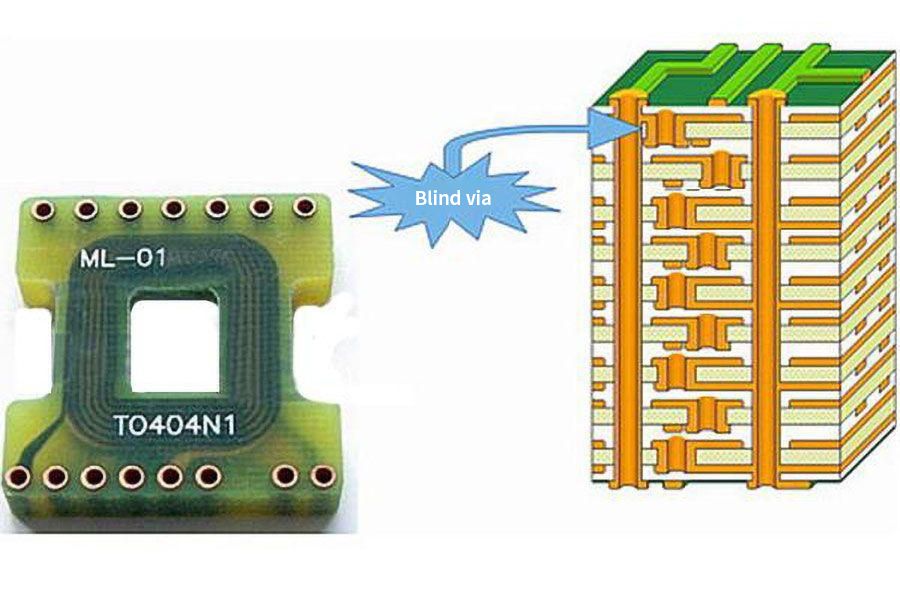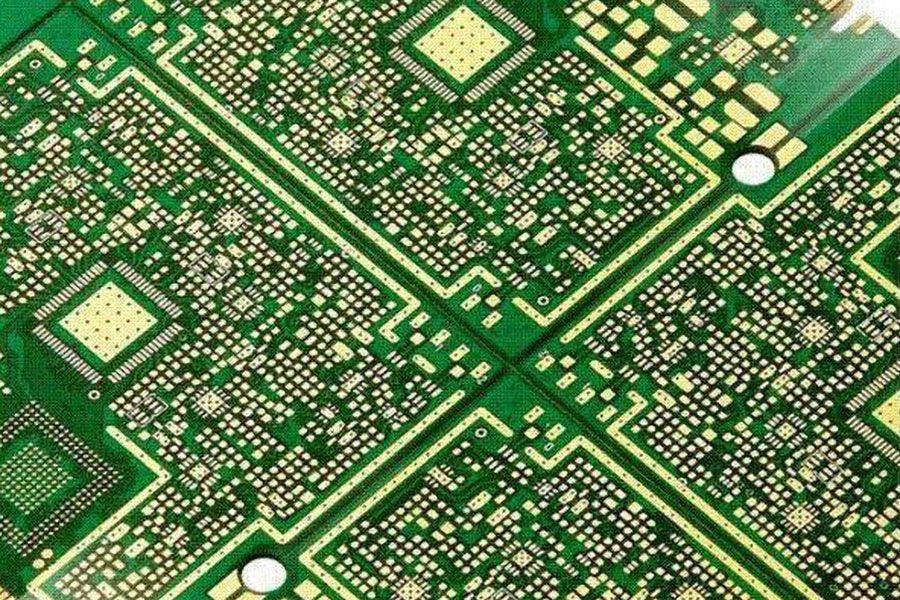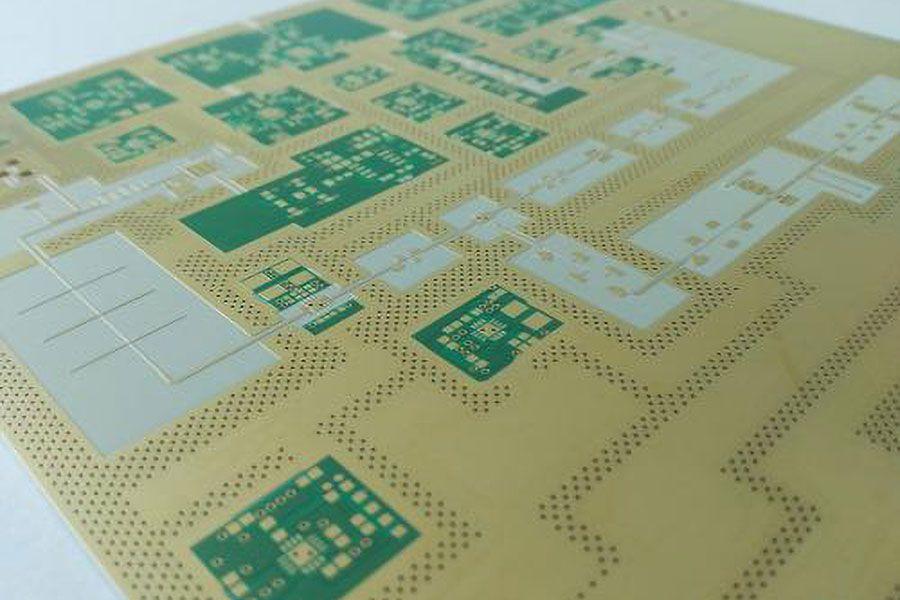 Via in Pad Process
Inspiration from surface mount technologies from the late 1980's has pushed the limits with BGA's, COB and CSP into smaller square surface inches. The via in pad process allows for vias to be placed within the surface of the flat lands. The via is plated and filled with either conductive or non-conductive epoxy then capped and plated over, making it virtually invisible.
Sounds simple but there is an average of eight additional steps to complete this unique process. Specialty equipment and trained technicians follow the process closely to achieve the perfect hidden via.
Via Fill Types
There are many different types of via fill material: non conductive epoxy, conductive epoxy, copper filled, silver filled and electrochemical plating. These all result in a via buried within a flat land that will completely solders as normal lands. Vias and microvias are drilled, blind or buried, filled then plated and hidden beneath SMT lands. Processing vias of this type requires special equipment and is time consuming. The multiple drill cycles and controlled depth drilling adds to process time.
Laser Drill Technology
Drilling the smallest of micro-vias allows for more technology on the board's surface. Using a beam of light 20 microns (1 Mil) in diameter, this high influence beam can cut through metal and glass creating the tiny via hole. New products exist such as uniform glass materials that are a low loss laminate and low dielectric constant. These materials have higher heat resistance for lead free assembly and allow for the smaller holes to be used.
HDI Structures
HDI PCBs come in a few different layout options. Some of the most common are 1-n-1 PCB and 2-n-2 PCB. A 1-n-1 PCB contains a single build-up of high-density interconnected layers, so it's the "simplest" form of HDI printed circuit board. It requires one sequential lamination on each side of the core. The 2-n-2 PCB has two HDI layers and allows microvias to be staggered or stacked across layers. Complex designs usually incorporate copper-filled stacked microvia structures. Structures can climb to very high X-n-X levels, though complexity and cost typically limit the buildup. Another important option is the any-layer HDI. This involves an extremely dense HDI layout so conductors on any given layer of the PCB can interconnect freely with the laser microvia structures. These designs appear in GPU and CPU chips in smartphones and other mobile devices.
Lamination & Materials For HDI Boards
Advanced multilayer technology allows for designers to sequentially add additional pairs of layers to form a multilayer PCB. The use of a laser drill to produce holes in the internal layers allows for plating, imaging and etching prior to pressing. This added process is known as sequential build up. SBU fabrication uses solid filled vias allowing for better thermal management, a stronger inter connect and increasing the board's reliability.
Resin coated copper was developed specifically to aide with poor hole quality, longer drill times and to allow for thinner PCBs. RCC has an ultra-low profile and ultra-thin copper foil that is anchored with minuscule nodules to the surface. This material is chemically treated and primed for the thinnest and finest line and spacing technology.
The application of dry resist to the laminate still uses heated roll method to apply the resist to core material. This older technology process, it is now recommended to preheat the material to a desired temperature prior to the lamination process for HDI printed circuit boards. The preheating of the material allows for better a steady application of the dry resist to the surface of the laminate, pulling less heat away from the hot rolls and allowing for consistent stable exit temperatures of the laminated product. Consistent entrance and exit temperatures lead to less air entrapment beneath the film; this is critical to the reproduction of fine lines and spacing.
Laser Drill & Laser Direct Imaging: Technology for High Quality HDI PCB Manufacturing
High density interconnect PCB designs push the limits of technology and Hemeixinpcb is at the forefront of innovation, satisfying the most rigorous requirements.
The demand for HDI PCB manufacturing has been increasing due to the advancements in technology and the many benefits HDI PCBs provide for high-tech applications. Fitting more technology in less space with fewer layers creates limitations for many HDI PCB manufacturing companies that do not have the specialized equipment and the capacity for advanced features, finer lines, and tighter tolerances. HDI printed circuit board designs utilize a combination of advanced features like microvias, blind vias, via-in-pad, along with stacked and staggered vias to maximize the space of the board while increasing its performance and functionality.
Hemeixinpcb achieves high quality and precision with in-house laser drill capabilities that include precise depth control. Laser direct imaging (LDI) capabilities ensure exacting registration and all multilayer inner cores receive a thorough check using Automated Optical Inspection (AOI) units for excellent defect detection of the finest features.
In addition to our Microvia HDI PCB manufacturing, we also produce other types. Discover our RF and Microwave PCB, Heavy Copper PCB, Metal Core & Thermal PCB, Manufacturing Capabilities, and IC Substrate pages.
About Us
At HemeixinPCB, we're your one-stop shop for all things PCB, everywhere from manufacturing and assembly, straight down to the final production and speedy delivery.
Whether it's Rigid PCBs & HDIs, Rigid-Flex & Flex PCBs and HDIs, Electronic Parts' Kits and Circuit Board Assembly, or Quick Turn PCB, we provide you with the ever-convenient options of either standard, fast, or express delivery. To view our full PCB prototype assembly-delivery services, please visit here.
For further information or enquiries regarding our HDI PCB assembly, production or manufacturing services, or to obtain an online quote for a Rigid PCB, Flex PCB, Rigid-Flex, or Turn-Key PCB, please fill out our online form here or contact us via Skype or This email address is being protected from spambots. You need JavaScript enabled to view it..
We understand how crucial it is for our customers to have technological products that are faster and lighter than their competitors, and as such we are a leading manufacturer of High Density Interconnect PCB.
We are experts in PCB fabrication, especially when it comes to creating miniature components, specialized equipment, and high quality thin materials to use in circuitry. Our facilities strive to stay up to date on the most advanced technologies and equipment in order to produce the best HDI PCB for our clients.
If your product has high speed electrical requirements, such as high-frequency transmission capability, reductions in unnecessary radiation, and impedance control measures, our HDI PCB manufacturing capacity has you covered.
HDI PCB production requires high-density micro-vias, thin lines, and reliable high performing thin materials. While the HDI PCB manufacturing process may be intricate and complex, the results are well worth the investment as the circuit boards' compactness and decreased weight to conventional counterparts means that the devices are more resistant to physical collision.
This higher density per unit area functionality has resulted in an increase in HDI PCB manufacturing to meet growing demand for use in various fields such as 4g networking, smartphones, computing, and other high-tech applications.
Moreover, advantages to using HDI PCB include increased cost effectiveness, as one HDI circuit board can produce the same functionality that traditionally would have required multiple boards. That is more value, for less!
If your business is looking to use high density interconnect PCB in your products, feel free to contact us any time and send us your specifications for a quote.
Our HDI PCB manufacturing experts can help review your turnkey designs and can consult the best approach to achieve your desired goals.